There are currently no events
2020 Incidents
Jan
96
Feb
111
Mar
66
Apr
52
May
75
Jun
Jul
Aug
Sep
Oct
Nov
Dec
Total
400
Yearly Calls
2019
915
2018
876
2017
840
2016
790
2015
757
2014
634
2013
705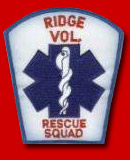 Web Counters
Website Visitors
Since
August 27, 2007

Visitors Today
Jun 06, 2020

Copyright © 2020 Ridge Volunteer Rescue Squad


Duplication of text, photos, or any other content on this website is prohibited without permission of RVRS. If you have questions, please contact us at info@rvrs.org
Girl Scout Daisies Visit RVRS!
By Chief Christy Ridgell
January 9, 2016
On Saturday, January 9th, 2016, the Ridge Volunteer Rescue Squad hosted a basic medical care demonstration for twelve (12) girls from the Girl Scout Daisy Troop #5065. RVRS Chief Christy Ridgell explained the importance of learning their address and phone number so they can relay the information to the 911 dispatchers if they should ever have to call, how to recognize a choking victim, and what should be done to help someone who is choking. The Daisies also enjoyed a tour of the inside of the ambulance and the equipment used during 911 calls. With assistance from RVRS Member Boyd Loflin, each girl (and two parents!) experienced the feeling of being loaded into the back of the ambulance while on the stretcher. At the end of the demonstration, each Daisy received an illustrative coloring book, which highlighted the key points of what they had just learned.
The RVRS appreciates this opportunity to share our knowledge with the Girl Scout Daisies. While emergency situations can be scary (for children, especially), it helps if they have basic training to better understand what is going on around them in their time of need.