There are currently no events
2016 Incidents
Calls
775
Standby's
21
Out of Area
73
Routine Transports
4
Web Counters
Website Visitors
Since
August 27, 2007

Visitors Today
May 25, 2018

Copyright © 2018 Ridge Volunteer Rescue Squad


Duplication of text, photos, or any other content on this website is prohibited without permission of RVRS. If you have questions, please contact us at info@rvrs.org
National Weather Service Alerts for St. Mary's County, MD
Welcome to the official website of the Ridge Volunteer Rescue Squad!
ANNUAL RVRSA 5K WALK/RUN AT POINT LOOKOUT STATE PARK

Chief Mandy Purdy, May 19

Racing Awards: 5K Run Awards – Overall top male & female, and top three in each male and female age group
Divisions: Male & female under 16, 16-19, 20-29, 30-39, 40-49, 50-59, 60+
Course Layout: A 5K out and back course through scenic Point Lookout State Park
Entry Fees: $30 if postmarked by 5/12/18; $35 day of race; $5 discount given to CBRC Members

Additional donations encouraged!

Race Day Registration: ... (Full Story & Photos)

MOD Pizza Fundrasier

Chief Mandy Purdy, April 11

The RVRSA is holding a MOD Pizza Fundraiser. Dine in or out at MOD Pizza in the Harris Teeter Shopping Center any time during April 11th and RVRS will receive 20% of your total bill. You must either show or bring the attached flyer.

As always, we are thankful for your support! ... (Full Story & Photos)

Blood Drive

Chief Mandy Purdy, March 30

Mechanicsville Volunteer Rescue Squad will be holding a Blood Drive in honor of Member Ryan Myers on Friday March 30th from 12:30-1800 at their station. Please see the attached flyer for more information. ... (Full Story & Photos)

Texas Roadhouse Fundraiser

Chief Mandy Purdy, March 22

The RVRSA will be sponsoring a Texas Roadhouse Fundraiser on Thursday March 22nd, 2018 from 5-9pm at the California, MD location. Please print out or show your server the attached flyer. The Rescue Squad will receive 10% back from your total food bill.

Thank You all for supporting us!! ... (Full Story & Photos)

RVRS All You Can Eat Breakfast

Chief Mandy Purdy, February 25

Come to our All You Can Eat Breakfast held at the Knights of Columbus Hall in Ridge on Feb 25th from 0830-1100.

On the menu there is:

Pancakes, Scrambled Eggs, Cream Chipped Beef, Sausage, Bacon, Home Fries, Fried Apples, Coffee, Tea and Juice.

Cost: $10/Person, $8/Senior Citizens, $5/Youth Younger than 6, $10 Carryout

Hope to see you there!!!
... (Full Story & Photos)

Petition for change

Chief Mandy Purdy, November 06

As many of you are aware St. Mary's County's Next Gen radio system suffered yet another failure the morning of October 24th 2017. For years the County Fire and EMS departments have pushed for change only to be ignored by the county government and its elected representatives. This recent incident underscores the need for transparency and effective management of our County Emergency Services and Technology ... (Full Story & Photos)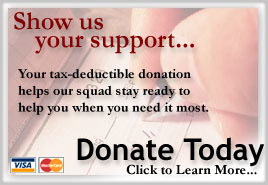 Your feedback is important to us! Feel free to sign the guestbook.
Ridge VRS gives a special thanks to the


for their generous support.