2016 Incidents
Calls
775
Standby's
21
Out of Area
73
Routine Transports
4
Web Counters
Website Visitors
Since
August 27, 2007

Visitors Today
Aug 22, 2017

Copyright © 2017 Ridge Volunteer Rescue Squad


Duplication of text, photos, or any other content on this website is prohibited without permission of RVRS. If you have questions, please contact us at info@rvrs.org
Welcome to the official website of the Ridge Volunteer Rescue Squad!
Welcome Home Jack And Frances Ann

Chief Mandy Purdy, July 19

On Sunday July 9th we held a cookout at our building to welcome home Jack and Frances Ann Cullison. Jack suffered a stroke in December and had been in rehab until April. Since they have been home they have not let any grass grow under their feet. Frances Ann loads Jack up into the car and off they go sometimes for the day, sometimes for a week. Jack's recovery is going well and Frances Ann has ... (Full Story & Photos)

ALL YOU CAN EAT BREAKFAST

Chief Mandy Purdy, June 25

RVRS Auxiliary to host an ALL YOU CAN EAT BREAKFAST on Sunday June 25th 2017 at the Knights of Columbus in Ridge, MD from 8:30-11.

Menu includes:

Pancakes, Scrambled Eggs, Cream Chip Beef, Sausage, Home Fries, and Fried Apples

Coffee, Tea and Juice

$10/person
$8/Senior Citizen
$5/Children 5 and under
$10/Caryout... (Full Story & Photos)

RVRS Auxiliary to Host Point Lookout State Park 5K Run/Walk

Chief Mandy Purdy, May 20

Join us for the 2017 Annual Ridge Volunteer Rescue Squad Auxiliary's 5K Run/Walk at Point Lookout State Park.

Racing Awards: 5K Run Awards – Overall top male & female, and top three in each male and female age group
Divisions: Male & female under 16, 16-19, 20-29, 30-39, 40-49, 50-59, 60+
Course Layout: A 5K out and back course through scenic Point Lookout State Park
Entry Fees: $30 if postmarked ... (Full Story & Photos)

Donuts with the Easter Bunny

Chief Mandy Purdy, April 09

THE EASTER BUNNY IS COMING!!!!!

Come out and enjoy a donut and get your picture taken with the Easter Bunny on Sunday April 9th from 10am-12pm.

You will receive a 4x6 picture with the Easter Bunny for the fee of a donation.

We hope to see you there! ... (Full Story & Photos)

Community CPR and First Aid Open House

Chief Mandy Purdy, February 18

More than 350,000 people in the United States suffer from out-of-hospital cardiac arrest each year and just 12 percent survive. However, statistics show that if more people knew CPR, more lives could be saved. Immediate CPR can double, or even triple, a victim's chance of survival.

Most people who experience cardiac arrest at home, work or in a public location die because they don't receive immediate ... (Full Story & Photos)

All You Can Eat Breakfast

Chief Mandy Purdy, January 02

Please join us for our All You Can Eat Breakfast fundraiser by the Auxiliary at the K of C Hall in Ridge on Jan 29th from 0830-1100.

On the menu:

Scrambled Eggs, Sausage, Pancakes, Home Fries, Fried Apples, Coffee, Tea and Juice

COST: $10/PERSON
$8/SENIOR CITIZENS
$5/YOUTH YOUNGER THAN 6
$10/CARRYOUT

We will also be holding a Bake Sale
... (Full Story & Photos)

Happy New Year from RVRS

Chief Mandy Purdy, December 30

We would like to wish everyone a Happy and Healthy New Year! Thank you all for your continued support and donations to our 100% volunteer service rescue squad. Each year we GREATLY appreciate the kind words and gratitude that we receive. We could not continue our mission without the generous donations from our community members. We wish you and your family a joyful, bright, healthy, prosperous ... (Full Story & Photos)

RVRS Meets with the Brownie Troop!

Chief Christy Ridgell, October 24

On Tuesday, October 24th, 2016, the Ridge Volunteer Rescue Squad hosted a basic medical care demonstration for nine (9) girls from the Girl Scout Brownie Troop. RVRS Lieutenant Mandy Purdy explained the importance of learning their address and phone number so they can relay the information to the 911 dispatchers if they should ever have to call, how to recognize a choking victim, and what should ... (Full Story & Photos)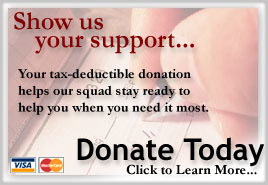 Your feedback is important to us! Feel free to sign the guestbook.
St. Mary's County High School Career
Technology Fire & EMS Program
Ridge VRS gives a special thanks to the


for their generous support.